Gavin's Skate was brought over from the Eastern States when Gary Caporn decided to give it wings and erect a "Big Dick". The whole concept of an asymmetrical spinnaker had caught Gavin and Gary's eyes and they decided to give it a go. They, as do other Skate sailors, think that the new look Skate would give the boat more appeal. Gary decided to go for a retractable pole which differs from the Eastern States boat which have permanently extended poles.
They started working on the wings and the sleave of the "Big Dick" soon after building the bee sting into the bow. The process of building a carbon pole and wings was new to Gary but turned out fine.
Now he needed something to extend and retract from that slender but solid sleave. He built the "Big Dick". I was quite impressed with the size and stiffness as it did not sag because of bulkage but was long and slender ensuring a nice median.
The deck was finally fiberglassed in after 6 months of waiting. You can also see that the pole sleave is fixed in now and the spinnaker shoot is forming shape.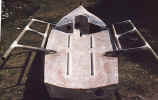 Heres a picture of Gavin's mast top asymmetric spinnaker.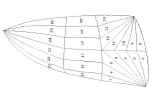 The finished product !!!